CHERI BURCHARD, ARTIST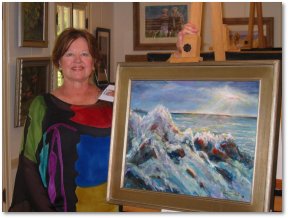 Cheri Burchard began her art career in Pennsylvania at the age of nine. Cheri has continued to create art ever since. An impressionistic painting in her childhood home influenced Cheri's direction in art. After graduating from college, her formal art experience included training at the Louvre, the School of Fine Arts in Mexico City, The Cape Cod School of Art, and Ghost Ranch.
Cheri makes brilliant use of confident colors and textures in her painting. Painting is a spiritual experience, and a painting will often be birthed in prayer. Her style is varied and personal, and yet, the accomplished eye will detect a common thread in her works.
Most recently, Cheri has explored some new directions and paradigms in her cave paintings and her angel paintings.
It is her hope that her paintings will bring joy, beauty and blessing to their owners.